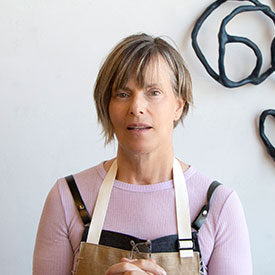 ARTIST SPOTLIGHT
Jenny Phillips
Artist Jenny Phillips and Fount designers embody a shared goal of inspiring feeling through art and design. As one of our most popular artists and an absolute joy of a person, Jenny creates expressive mixed media artwork that graces several of our carefully curated Fount collections.
Extremely well received by our clients and all who enter their spaces, Jenny's expressive and evocative images evoke feelings of calmness and amazement and reveal the wonder often hidden in the mundane. 
"I work from feeling rather than ideology. Inspired by the ordinary and the everyday, I respond to the personal moments in my environment, discovering beauty in the unexpected, gleaning its essence from the places and objects I encounter," Phillips says.