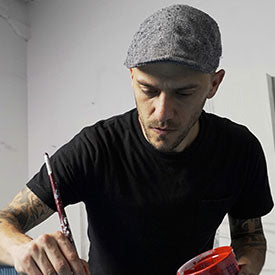 ARTIST SPOTLIGHT
Erik Otto
Erik Otto - with his rich and stimulating small prints to bold-colored custom murals and everything in between -  is one of Fount's most diverse and longstanding artists.
Since 2010 Erik and our designers have worked together to find creative solutions for placing art in a variety of environments, from health and wellness to retail spaces. No matter the space, Erik's mixed media artwork, with its fascinating movement and color, always brings a sense of joy and elevation.
Erik Otto's work evokes balance and harmony by uniting seemingly opposite elements – soft with raw, light with dark, and textured with smooth – in his abstract paintings, sculptures and installations. He uses an improvisational materially-oriented practice that pairs conventional and unconventional mediums – an experimental approach inspired by his formative years immersed in freeform dance and percussion drums.