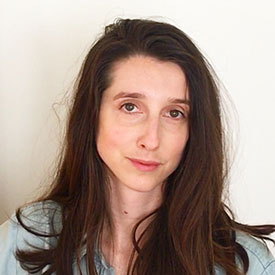 ARTIST SPOTLIGHT
Emily Keating Snyder
Always on the lookout for unique artwork that delights, Fount designers handpicked Emily Keating Snyder's pieces because they exude comfort and personality balanced with a surprising elevated sophistication. Serendipitously, we found that Emily shares our passion for mindfulness and creating art and design that is accessible and approachable.
Emily creates mixed-media paintings with engrossing layers and texture that feature soothing color and a sense of energy and playfulness. Including painting on canvas and embroidery on fabric, her pieces balance elements of fine art and the more down-to-earth craft and folk art.
"That sense of an experience is more inspiring to me than creating something symbolic or representational. I'm also really inspired by layering and combining materials and colors in unexpected ways," she says.